Inappropriate Thoughts, 1.0
You know, I've always kinda wanted to do a webcomic. There's really only one thing that's stood in my way: I haven't got anything even remotely like that kind of artistic talent.
So I'm not going to do that. What I'm going to do instead is contrive some single frames of photoshop magic, and accompany them with little anecdotes and clever comments.
We've all been there: whatever situation you happen to be in, you'll see something or hear something, and your first thought will be so wildly inappropriate that you won't be able to think of anything else. And then, you spend the rest of the night trying not to mention it. It's Sammy's glass eye all over again [4 points]. Well, that is the premise that underwrites my little experiment: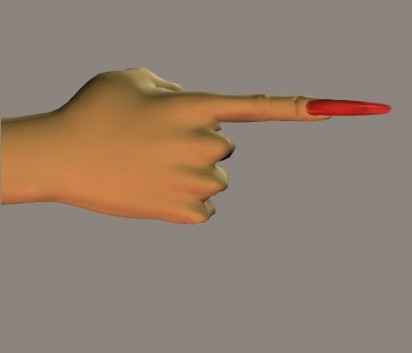 So, the other night at karaoke, I'm sitting next to one of the other regulars, and she reaches across me to point something out to her girlfriend. And as her outstretched finger was blocking my field of view, I couldn't help but notice, and this one thought wouldn't leave my head:
Those seem like inconveniently long fingernails for a lesbian.
--------